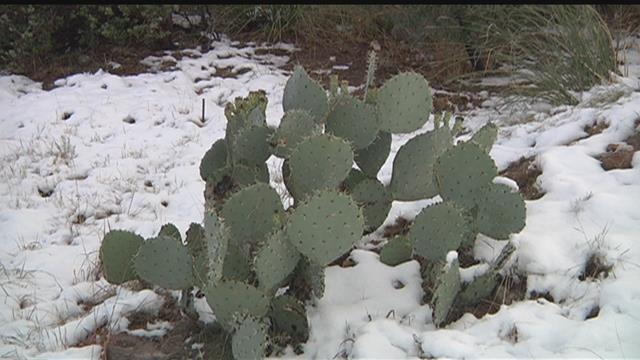 Flagstaff, Az.- Business owners from hospitality to retail say the lack of winter snowfall seems to have slowed business in a n
orthern Arizona city dependent on tourism. The Arizona Daily Sun reports that Flagstaff hotel owners are reporting lower numbers of visitors during this holiday season - a time when hotel demand is typically high.
Peace Surplus employees say winter-oriented items are selling OK, but the store has held sales that it normally doesn't hold in order to keep the items moving off the shelves. Restaurant and bar owners say business has been consistent but slower than normal.
Flagstaff Convention and Visitors Bureau spokeswo
man Meg Roederer says it's too soon to report how sales tax figures, lodging occupancy and hotel room rates have changed in December, but this information is being gathered.
http://www.kvoa.com/story/37152950/flagstaff-residents-say-lack-of-snow-has-slowed-business
MAS DEL DESCONCERTANTE CAMBIO CLIMÁTICO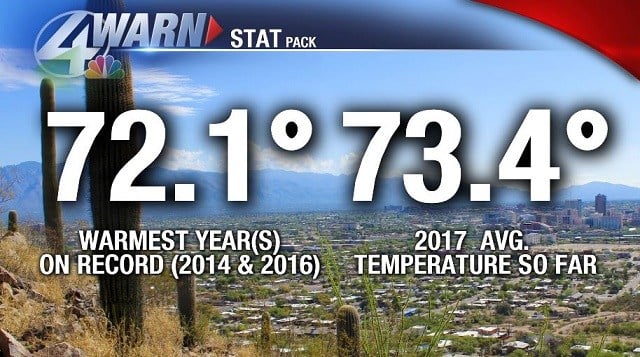 Con un promedio de 73.1 grados el 2017 establece récord como año caliente
Tucson, Az.- A warm up in on the way in the old pueblo.
That means we could break the record for highest average yearly temperature in Tucson. Currently, the warmest years on record are 2014 and last year, 2016. Both years sa
w an average of 72.1 degrees. 2017 is on trend to obtain an average of 73.1 degrees, breaking both records.
This week's warming trend is due to a ridge of high pressure moving East across Arizona. Day time highs will be in the upper 70s and possibly low 80s this weekend. We are 10-15 degrees above average for this time of year, but as this lo
w pressure system moves through, high temperatures will dip just slightly into early next week.
http://www.kvoa.com/story/37155985/on-trend-to-have-the-warmest-year-on-record?
Durante el mes de enero cayo una copiosa nevada en Flagstaff
From feet of powder to a snow-free winter, Flagstaff weather swings to extremes in 2017 Months of dry, warm days this fall and winter have continued to make and break records, but that is far from the only notable weather that has passed through Flagstaff in 2017.
The city saw everything from near-record snowfall in January to monsoon rains that were well above average. June was punctuated by a seven-day streak of temperatures above 90 degrees that was the second longest in Flagstaff's history.
Here's how the weather played out in 2017.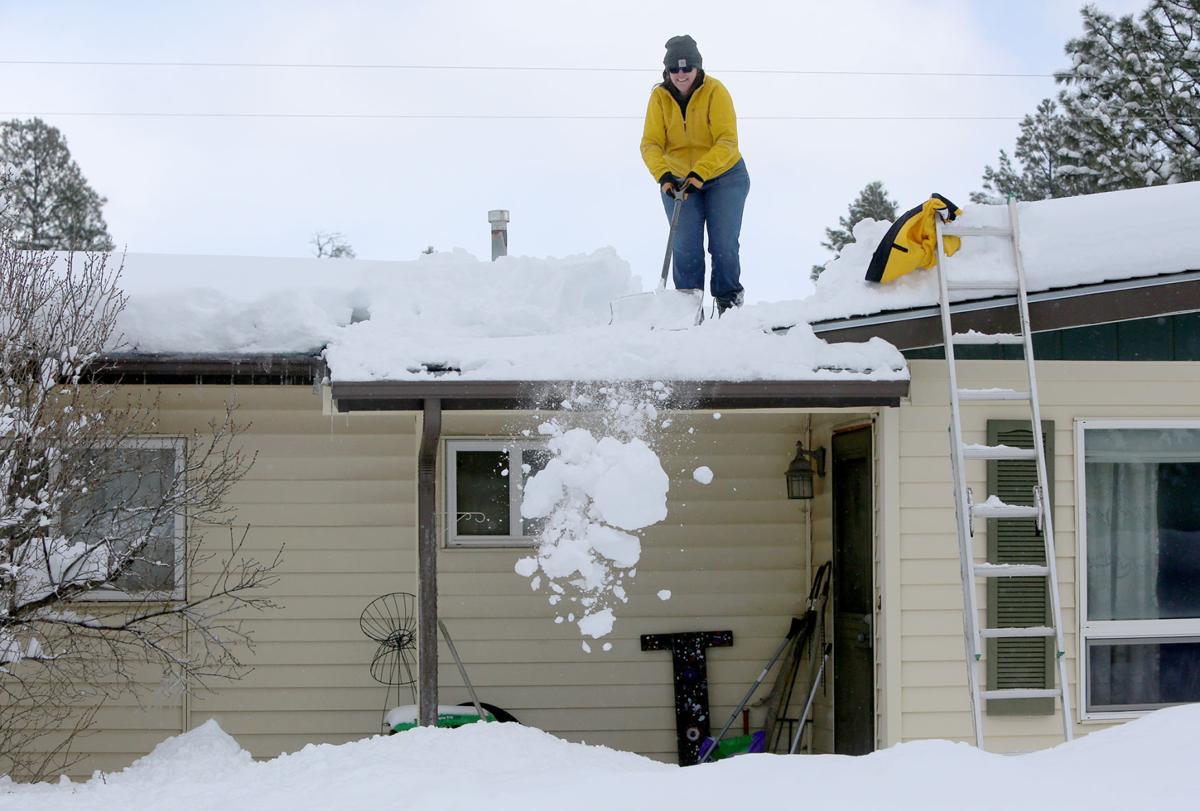 Edie Anderson shovels snow off the roof of her home north of the hospital Tuesday afternoon as snow flurries continue to fall in Flagstaff.
The year started off with a series of storms that, over one week, dumped 36 inches of snow in Flagstaff and nearly 8 feet of snow on the San Francisco Peaks. When all was said and done, the stretch became the 10th biggest snow event in the city's history. The storms also helped make it the 12th wettest January on record in Flagstaff.
Warm weather moved in and stuck around for much of February and March. February was the 14th warmest on record, even with a month-ending snowstorm, and March was the fifth warmest on record with temperatures that were 4.4 degrees above normal.
In May, Arizona Snowbowl ended a 147-day season that was the longest in the resort's history thanks in part to ample natural snowfall — a total of 323 inches over the season.
The Coolest Spot in Town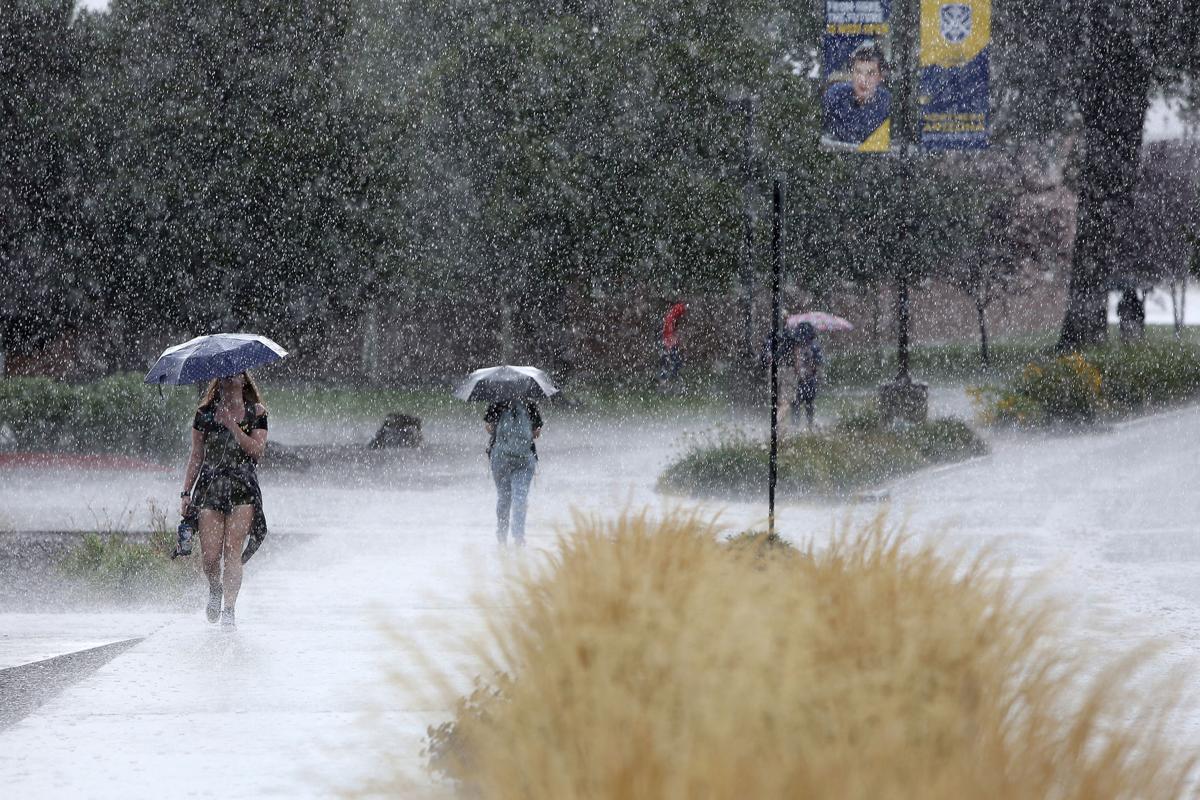 Aurelia Shaffer, 4, pushes her shark through a waterfall Thursday afternoon while playing in the outdoor pool at the east Flagstaff Athletic Club June lived up to its reputation as Flagstaff's hottest month, bringing a string of seven consecutive days with temperatures above 90 degrees.
That was second only to 11 straight days of temperatures above 90 degrees in 1990. The temperatures helped make it the fifth hottest June on record, but the top temperature of 93 still fell 4 degrees short of the city's all-time record high of 97 degrees.
The summer was a toasty one with average temperatures across June, July and August ending up being the 10th hottest on record in Flagstaff. In July, Flagstaff saw 4.48 inches of rain — 1.3 inches more than normal — making it the 15th wettest July on record. The National Weather Service also reported that between June 15 and July 30, Flagstaff received nearly 2 inches more precipitation than normal. Monsoon rains le
d to tragedy in July, however, when rainfall on a recent burn scar created dangerous flash flood conditions in a swimming hole north of Payson that swept away and killed 10 members of an extended family from Phoenix.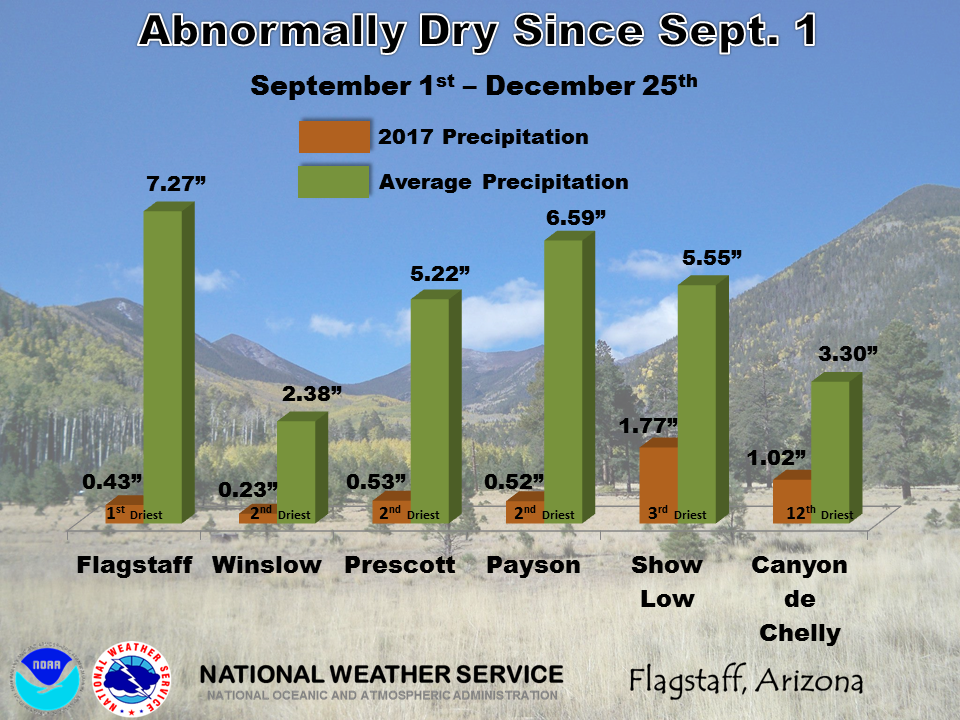 A Wall of Water, file Raindrops create a wall of water falling on students at Northern Arizona University as they walk between classes during a monsoon storm in this August, 2017 file photo. In July, Flagstaff saw 4.48 inches of rain — 1.3
inches more than normal — making it the 15th wettest July on record. Since September, Flagstaff has been stuck in a dry spell that seems to have no end in sight. The period since Sept. 1 has been the driest
Flagstaff has ever seen, with just 0.43 inches of precipitation.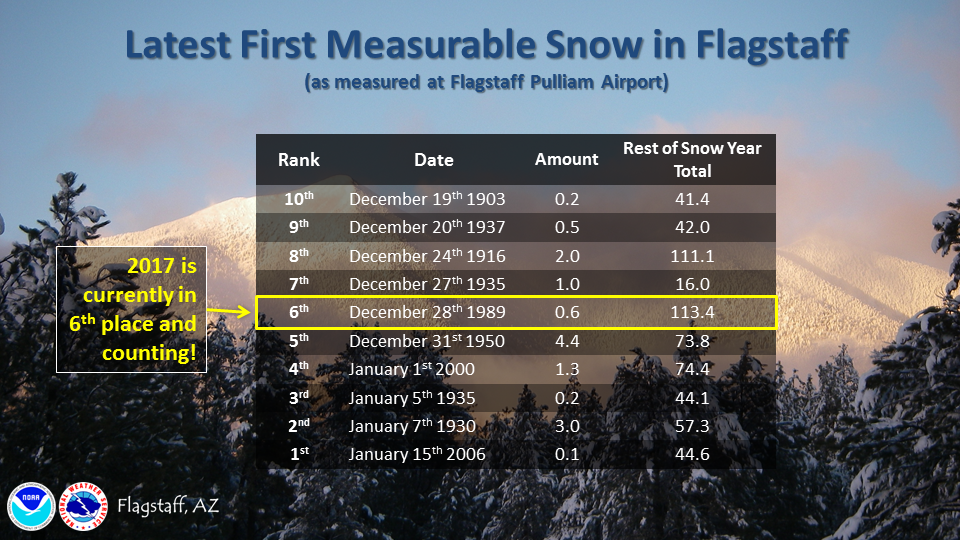 This year is also climbing rapidly into the top five winters with the latest first snowfall in Flagstaff. If the current forecast holds, it will be fourth latest by New Year's Day. A low-snow winter, fueled by a weak La Nina weather pattern, is bad news for the region's pine trees, which rely heavily on winter moisture, and forced Arizona Snowbowl to open and continue operating entirely on manmade snow.
C
LIMATE CHANGE DRYING UP NORTHERN ARIZONA
Top 10 All-Time Flagstaff Snow Events
1. Dec.13-20, 1967 -- 84.6" 2. Dec. 29-31, 1915 -- 54.0" 3. Jan. 18-23, 2010 -- 53.8"
4. Jan. 9-17, 1949 -- 48.4" 5. Feb. 1-4, 1901 -- 47.4" 6. Jan. 22-25, 1949 – 43.5"
7. April 1-5, 1999 – 41.3" 8. Jan. 25-30, 1916 – 39.0" 9. Nov. 20-23, 1902 – 38.6"
10. Jan. 19-24, 2017 – 35.9"
Research this year found the warming and drying effects of climate change are responsible for declining water levels on Mormon Lake. A U.S. Geological Survey researcher determined lower lake elevations correspond
with reduced precipitation and prolonged droughts the region experienced in the mid 20th and early 21st century as well as an increase in average annual temperatures by about 1 degree Celsius over the past century.
Summer rains in the Southwest are also in danger due to global warming, according to a team of researchers from Princeton and the National Oceanic and Atmospheric Administration. Flagstaff could see up to a 40 percent decline in summertime monsoon precipitation if carbon dioxide emissions double compared to 1990 levels, the researchers found.
http://azdailysun.com/news/local/from-feet-of-powder-to-a-snow-free-winter-flagstaff/article_7d70730c-dd7b-5ccd-b05a-1042d
96575be.html