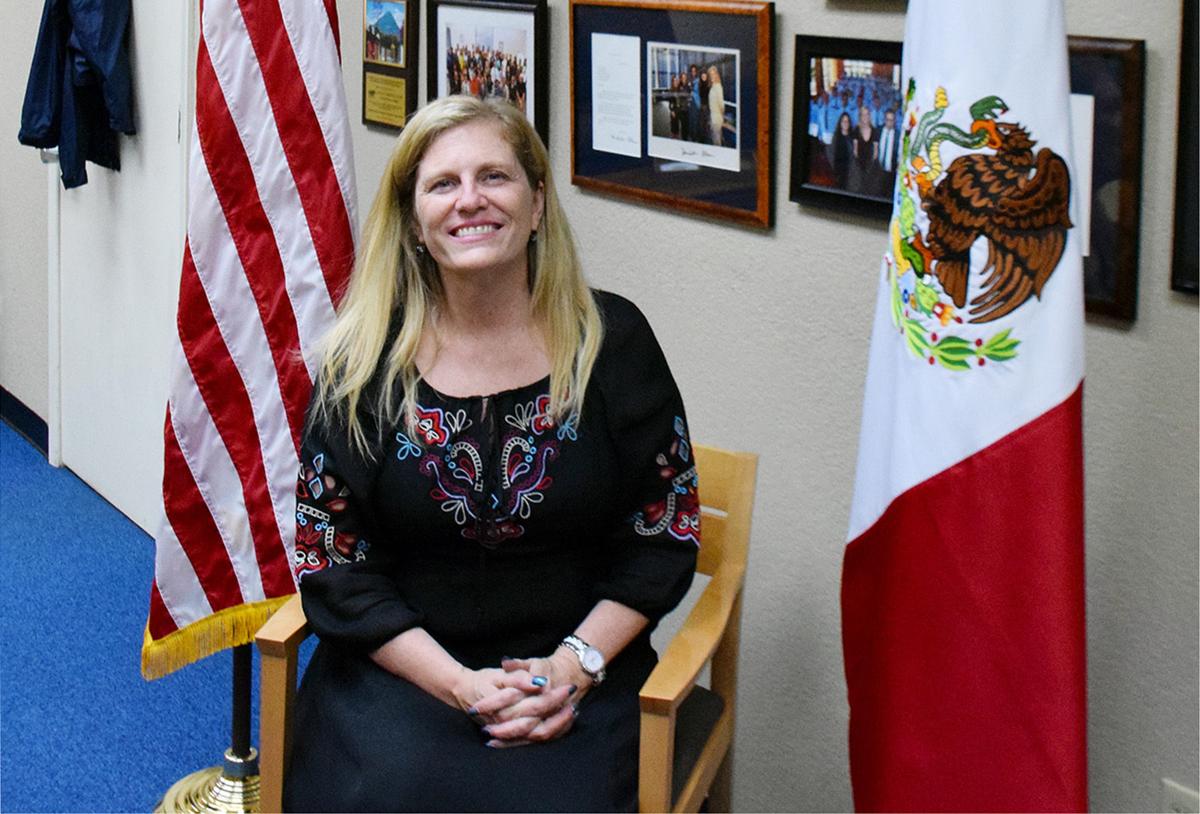 Two months into her post in Nogales, Sonora, the U.S. government's top representative in northern Sonora said she's ready to tackle priorities ranging from facilitating cross-border cultural exchange and economic opportunities,
to improving the daily lives of people on both sides of what she called an "amazingly impressive" community.
"I have three years here, but it passes really fast, quite honestly, so I'm anxious to get going," U.S. Consul General Virginia Staab said Tuesday, n
oting that as she works to strengthen relationships between the United States and Mexico during that three-year assignment, one of her most important jobs is to listen.
"The basis of our job is to get out and talk to people, all kinds of people," she said. That includes students, government lead
ers, business owners and mothers, who know the most pressing issues in the communities where she works.
"There's no substitute for hearing it from the people who live here's mouths," she said.
Staab, who took the helm at the U.S. Consulate in Nogales, Sonora, at the beginning of August, joined the foreign service 15 years ago, she said, after the trauma of the terrorist attacks of Sept. 11, 2001 pushed her to do
"something a little bit more soul enriching."
So in 2003, she left her job at a law firm in San Francisco and accepted a post in Bogota, Colombia, where she was stationed until 2006. While there, S
taab met her husband, a fellow diplomat, and the couple has since been stationed with their two children, a 10-year-old daughter and 5-year-old son, at various posts in Europe and Latin America.
Most recently, Staab served as the director of International Narcotics and Law Enforcement in Guatemala, which
she enjoyed enough to offer to extend her stay for an extra year – unless she was assigned to the post in Nogales, Sonora, she said.
"It felt like winning the lottery," she said of the ass
ignment to Nogales. "It was my very first choice … and we're just extremely happy to be here, my family and I."
Immigration concerns
As she gets her feet under her in her new role, Staab said, she has spent much of her time visiting communi
ties throughout the Nogales consular district to better understand the Arizona-Sonora border region.
"Certainly there is a lot of nervousness and trepidation about especially the Dreamers and things like that," she said, noting th
at visas and the U.S. immigration system are foremost in the minds of many people s
he talks to.
As for concerns about the fate of Deferred Action for Childhood Arrivals (DACA) recipients, who were left dangling after President Trump announced the coming end of the Obama-era protections for young immigrants last month, "that c
onversation is ongoing," she said, calling much of what people hear about U.S. policy "a window into an internal dialogue" that has not yet been resolved.
In part, Staab's role as a consul is deciphering for others the way the U.S. government works and "to explain, what does it m
ean when the pres. says X or Y? How does it all work?" she said. "It's not over when any one group says it's over. It's still ongoing."
On the issue of immigration, Staab said she's hopeful that there will be an "equitable resolution," adding that while there is disagreement on what comprehensive immigration reform should look like, it is widely accepted that change is needed.
"As the president says, we've never had a closer friend than Mexico, and that will continue," she said, noting that in matters of trade, the economy and immigration, it is important to maintain and
strengthen the connections between the two countries, a fact that is especially apparent in border communities.
Crossing borders
To that end, facilitating speedier and more streamlined border crossings is one of her priorities, Staab said, calling crossing the bord
er a "monumental task" for people on both sides.
"So one of our first efforts is working with local government and local entities to improve Mariposa (Port of Entry
)," she said. "It's such an amazing facility. It's huge, it has such potential, and (we want to use it) to the fullest of its potential, because that will increase commerce."
While security cannot be compromised, Staab added, she wants to bring all the players to the table to find solutions that reduce redundancy, increase traffic flow and draw more economic opportunities to area, which she said is widely seen as a top interest f
or the United States. She pointed to the ongoing process to build a new, larger consulate in Nogales, Sonora, which will be twice as large in both size and staff when it's completed in about two years, as evidence of Nogales' prominence.
"It's an extremely important area. The amount of immigration and transportation and business and exchanges, the amount that goes on here is just incredible," she said. "And we want to broadcast what it's really like."
http://www.nogalesinternational.com/news/new-u-s-consul-says-cross-border-exchanges-are-a/article_782dd36c-aa22-11e7-9585-fb1f02a48c70.html