Tucson.- The Tucson sector of the Border Patrol is ground zero in the fight against illegal immigration. As the News
4 Tucson Investigators discovered, some of those illegal crossers have already had multiple encounters with the U.S. justice system. That's because they're dangerous gang members.
The most recent gang members busted in southern Arizona were taken into custody by Border Patrol agents just a few days ago. Authorities say bo
th men were known to law enforcement here in the United States, and both men had previously been deported.
"We identify everyone who illegally attempts to come across into the United States when we make the arrest. We identify if they hav
e criminal history, and we identify if they have any affiliation to gangs," Border Patrol Agent Christopher Sullivan told the News 4 Tucson Investigators.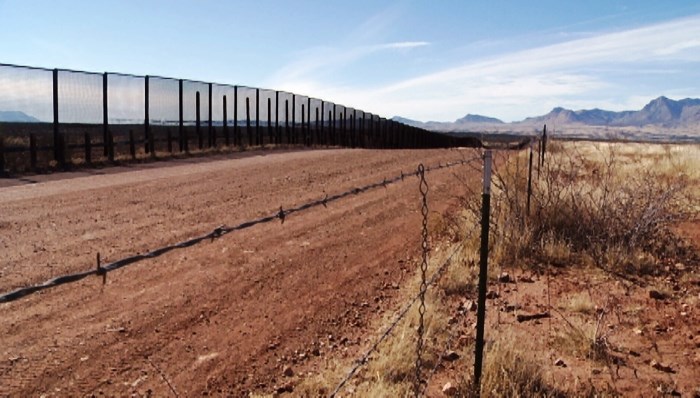 Agent Sullivan added that the Border Patrol is always on the lookout for people who are intent on criminal activity. That includes members of MS-13, a criminal gang that originally formed in Los Angeles.
"Here in the Tucson Sector, we have come in contact with MS-13 members attempting to illegally enter the United States," Sullivan told the News 4 Tucson Investigators.
In fact, just last month agents in the Tucson Sector arrested two other previously deported MS-13 gang members. Again, both of those men have ex
tensive criminal histories.
"Often times, you know, gang members have gang-affiliated tattoos that identify them. Some admit to being gang members," Agent Sullivan told the News 4 Tucson Investigators.
"Tucson isn't a destination city. It's kind of a corridor city. They're on their way somewhere else," said Captain Sean Stewart, the head of security at the Pima County Adult Detention Center.
Captain Stewart is familiar with most of the criminal gangs operating in southern Arizona. He told the News 4 Tucso
n Investigators, while many people focus on MS-13, there are other gangs that are already well-established and operating in our state.
"So, if an MS-13 individual tried to set-up shop in one of these neighborhoods, they'd be run out," Captain Stewart said.
Captain Stewart also told the News 4 Tucson Investigators, all inmates who have gang affiliations are put on notice just as soon as they're booked into
jail.
"Our security staff will sit down and talk with them - we recognize your tattoos, we know who you are, we know what
you're about. Don't cause us problems, because we're watching," Captain Stewart said.
Captain Stewart also told the News 4 Tucson Investigators, it's critical that jail security keep close watch over every inmate who is locked up. That includes monitoring their phone calls
"It's a chess game. It's not a game, but you're playing mental chess with somebody. They're trying to get drugs and cellphones into your prison system, and you're trying to stop them," Captain Stewart told the News 4 Tucson Investigator
s.
Trying to stop the gang members from ever stepping foot in the U.S. in the first place is the primary job of the agents worki
ng on the front lines of illegal immigration in southern Arizona
"We want to prevent that from happening, whether that be arresting them here in Tucson, while they're transitioning to their intended destination, and stop them from coming across the border," Agent Sullivan told the News 4 Tucson Investigators.
If you have something you'd like the News 4 Tucson Investigators to investigate, email us at investigators@ kvoa.com, or call the News 4 T
ucson Investigators tip-line at (520) 955-4444.
+++++++++++
ICE removes Mexican man following sentence for death of North Carolina man
CHARLOTTE – U.S. Immigration and Customs Enforcement's (ICE) Enforcement and Removal Operations (ERO) removed an illegally present Mexican man from the United States Thursday following his release from prison in North Carolina for causing the death of a pedestrian in a parking lot in Iredell County in 2014
Bonifacio Cano Perez, 43, an illegally present Mexican national, entered ICE custody Aug. 22. He was subsequently ordered removed from the United States by a federal immigration judge Oct. 3, after receiving appropriate legal process before the federal immigration courts.
Mr. Perez was initially encountered by ICE following his conviction Jan. 20, 2014, for felony involuntary manslaughter in Iredell County. According to court documents, Perez was driving in the parking lot of a Lowe's Home Improvement store when he struck and killed a 72-year-old man.
https://www.ice.gov/news/releases/ice-removes-mexican-man-following-sentence-death-north-carolina-man
+++++++++
EL PASO, Texas — A Mexican national and convicted sex offender, who was one of U.S. Immigration and Customs Enforcement's (ICE) Top 10 most wanted fugitives, was removed to his home country Tuesday by officers with ICE Enforcement and Removal Operations (ERO).
Jesus Guitron-Aguilera, 56, who has been wanted by ICE since 2010, was removed aboard a charter flight coordinated by ICE Air Operations (IAO) Unit.
Guitron-Aguilera has a lengthy criminal history, which includes a felony conviction for attempted criminal sexual conduct — assault with intent of sexual penetration, as well as four misdemeanors, including two convictions for driving under the influence. Guitron-Aguilera, a field laborer, was convicted of the sex-assault charge July 13, 1992, and was sentenced to five years in prison.
On Sept. 26, 2008, a federal immigration judge ordered Guitron-Aguilera removed. His appeal of the judge's order was dismissed Aug. 10, 2010. On June 9, 2014, Guitron-Aguilera was seen driving a red Corvette and was stopped by authorities. However, he escaped on foot and was not found again until Sept. 26, 2017, when ERO deportation officers assigned to the Fugitive Operations Unit arrested him in Utah as a result of a tip.
00000 https://www.ice.gov/news/releases/ice-el-paso-deports-convicted-sex-offender-ices-top-10-most-wanted-list#wcm-survey-target-id