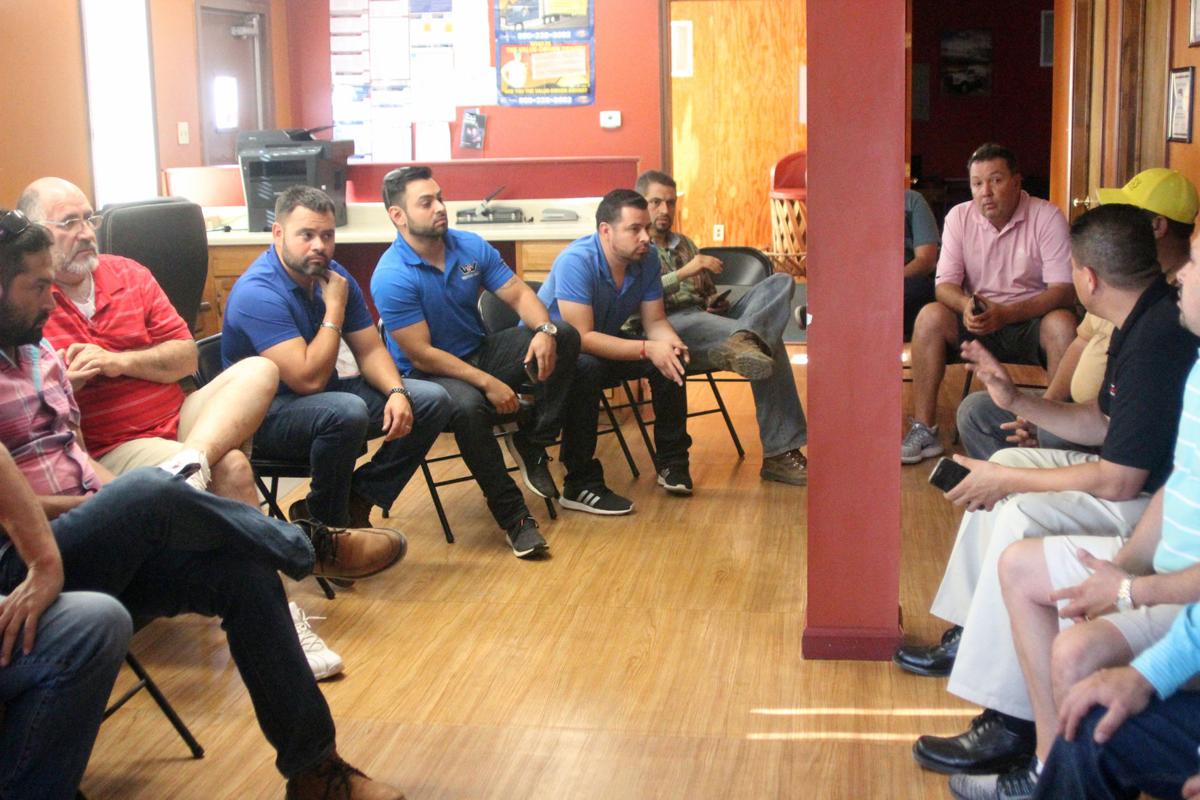 Nogales, AZ.- Newly enforced regulations prohibiting Mexican truck drivers from transporting cargo loads picked up at local warehouses to another location within the United States are creating a headache for trucking and logistics companies. The issue stems from commercial violations of so-called "cabotage" regulations, a provision in the Nort
h American Free Trade Agreement that prohibits foreign truck drivers from lugging cargo that originated in the United States to a final destination within the
country.
The issue prompted the owners of local trucking and logistic companies to convene a meeting Wednesday afternoon to discuss possible solutions to the problem. More than 25 people attended the gathering at WS Trucklines off Old Tucson Road, with most expressing concerns that if the problem isn't fixed, they may have to close their businesses or lay off employees. "Long story short, if we don't fi
x
this soon, 100 companies will close in Nogales," said Jimmy Watson, Jr., who runs local trucking company JSJ Enterprises with his father Jimmy Watson,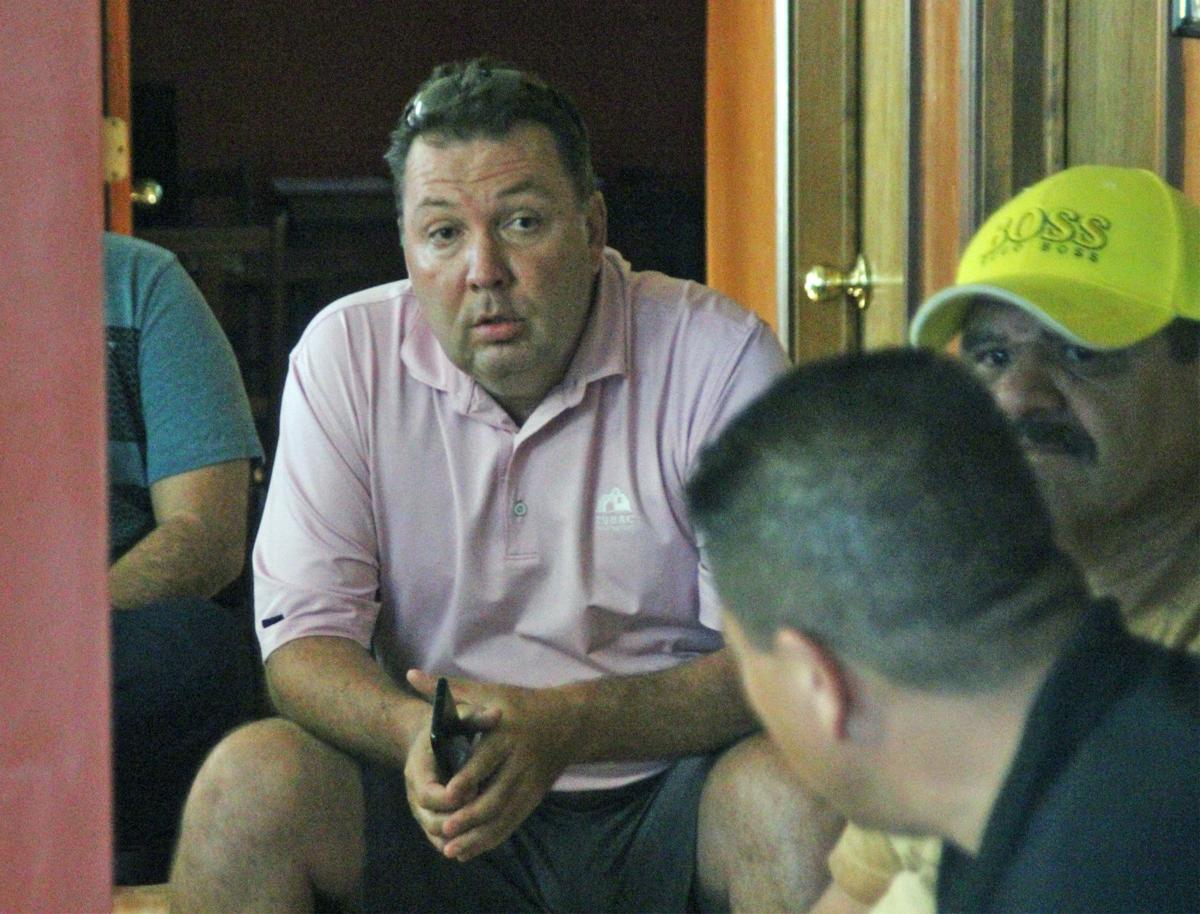 Sammy Legleu of Sammys Transportation talks about how difficult it can be to hire local drivers.
Sr. Watson said that while the regulations have long been in place, they weren't being enforced by local Border Patrol agents at the Interstate 19 checkpoint. That changed, however, when Patrol Agent in Charge Sabri Dikman
took over the Nogales Station in June, Watson said. Though the group had until Oct. 1 to comply with the regulations, an email from Eric Lee, watch commander at the Nogales Border Patrol Station, to Luis Velasco of Athena Logistic Solutions, which the group provided to the NI, states: "The Chief of Tucson Sector has agreed to give local co
mpanies more time to get their operations in compliance before we start enforcing the regulations." The group now has until Jan. 1, 2018 to come into compliance. "This is just an aspirin for the headache that is coming," Watson told the group.
Change in attitude
In an emailed statement Thursday morning, the Border Patrol's Tucson Sector public information office said: "Federal immigration regulations and policies provide that foreign commercial truck drivers may qualif
y for temporary entry with a B-1 visa to pick up or deliver cargo traveling in the stream of international commerce." B-1 Temporary Business Visitor visas are meant for people who are participating in business activities in the United States. In the case of
truck drivers here on a B-1 visa, they must enter the United States with a trailer loaded with foreign merchandise and deliver it to its final destination, remaining in the stream of international commerce.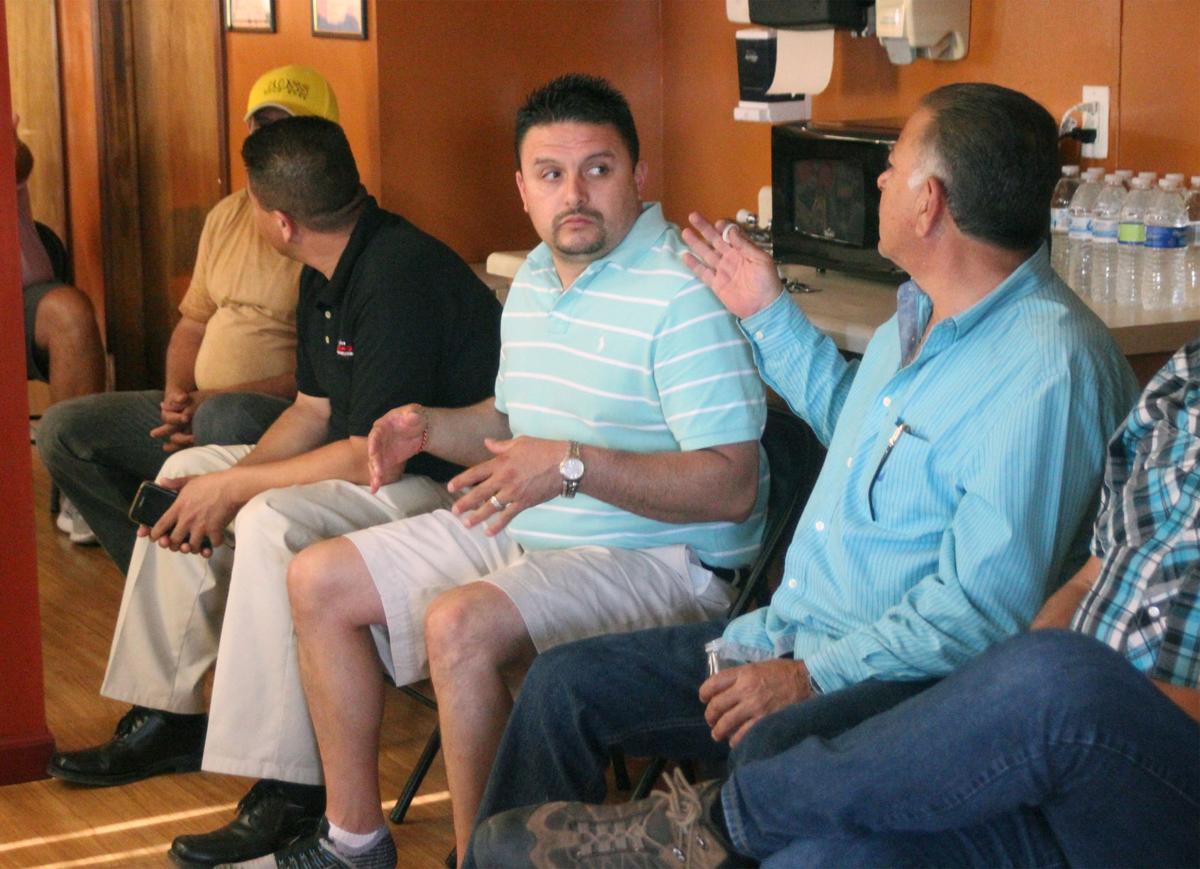 Salvador Gonzalez Luna (far right) of Goza Trucking Inc.
They cannot, however, unload the cargo locally and then reload their trucks with merchandise stored at warehouses in Nogales and Rio Rico. Doing so would be a violation of cabotage regulations, also known as point-to-point hauling, because it would be considered domestic commerce and would be in direct competition to U.S. truck drivers. "These regulations do not allow for commercial drivers in the United States on a B-1 visa to carry cargo in violation of cabotage laws, i.e. domestic point-to-point hauling or other pur
ely domestic service or solicitation," the sector's public information office said. "Should a driver engage in such activity, he/she would be engaging in unauthorized employment in the United States in violation of (federal statutes)."
According to a pamphlet distributed by Border Patrol regarding NAFTA regulations that was provided to the NI by the business owners, drivers in violation of employment laws can have their cargo taken, visas cancelled, and will be arrested and placed in deportation proceedings. Companies in violation can also face civil and criminal pena
lties. Asked why the change in attitude, the sector's public information office said: "Border Patrol has exercised agent discretion in the enforcement of this law in the past. Reports from Interstate 19 checkpoint indicate numerous drivers transiting through the checkpoint are in violation of cabotage requirements." Once regulations are enforced, agents at the I-19 checkpoint will check truck drivers' employment status and ask where the cargo loads originated.
Possible solutions
Among them, the businesses represented at Wednesday's meeting have roughly 500 trucks, Watson said. If they're unable to find a solution by the Jan. 1 deadline, it would mean a significant blow to the local economy, he added. The gro
up brainstormed various ways in which they could come into compliance with federal regulations, including hiring U.S. truck drivers, obtaining H-2B Temporary Non-Agricultural Worker visas for their employees and lobbying local, state and federal officials. However, following through with those suggestions is easier said than done.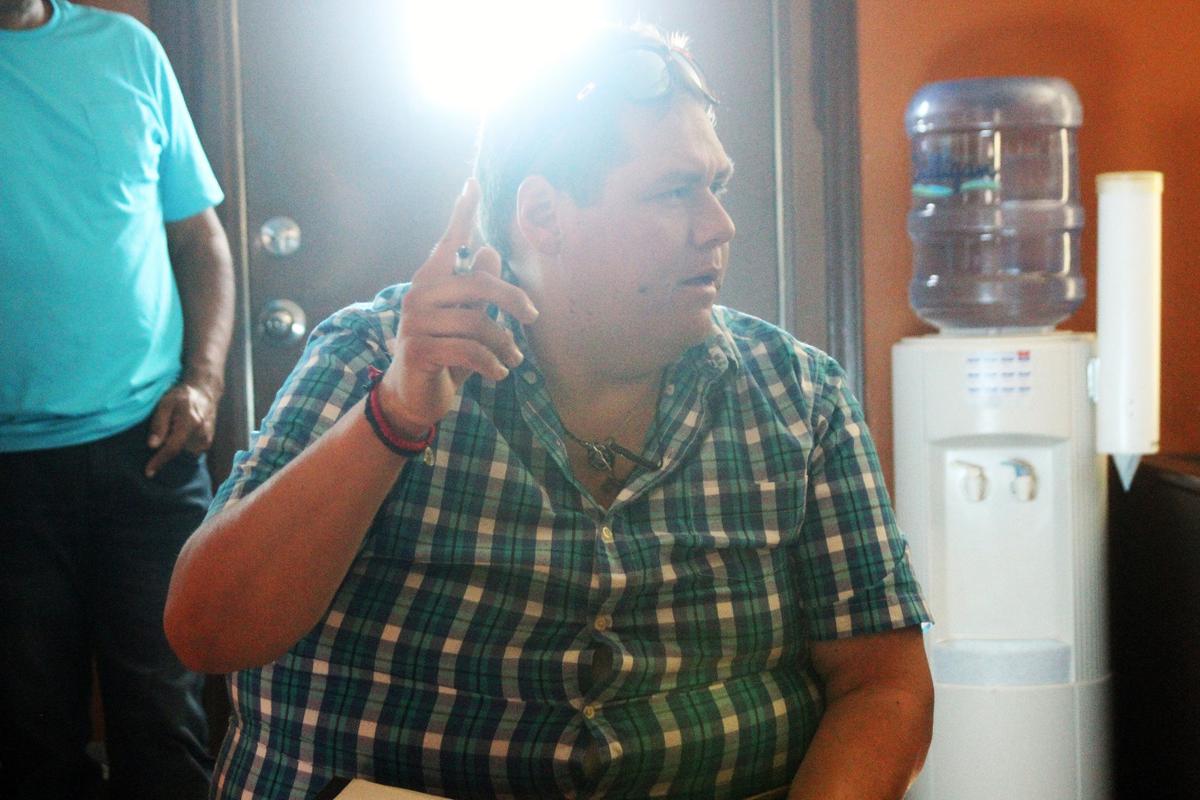 Jim Watson, Jr. said local trucking and logistics companies want to comply with NAFTA regulations and are seeking a solution to the problem.
Nationwide, there is a shortage of U.S. truck drivers, and the group noted that the older average age of truck drivers on the road means there will be even more vacancies in the coming years. Watson and others in attendance, including Luis Rivera of L&R
Trucking and Salvador Gonzalez Luna of Goza Trucking, said they've run classified advertisements and visited the Santa Cruz County One Stop Career Center, but have been unsuccessful in their search for American drivers. They said many potential drivers want to work Monday-Friday, drive locally or within the state and be paid in cash, demands that aren't realistic, Gonzalez said.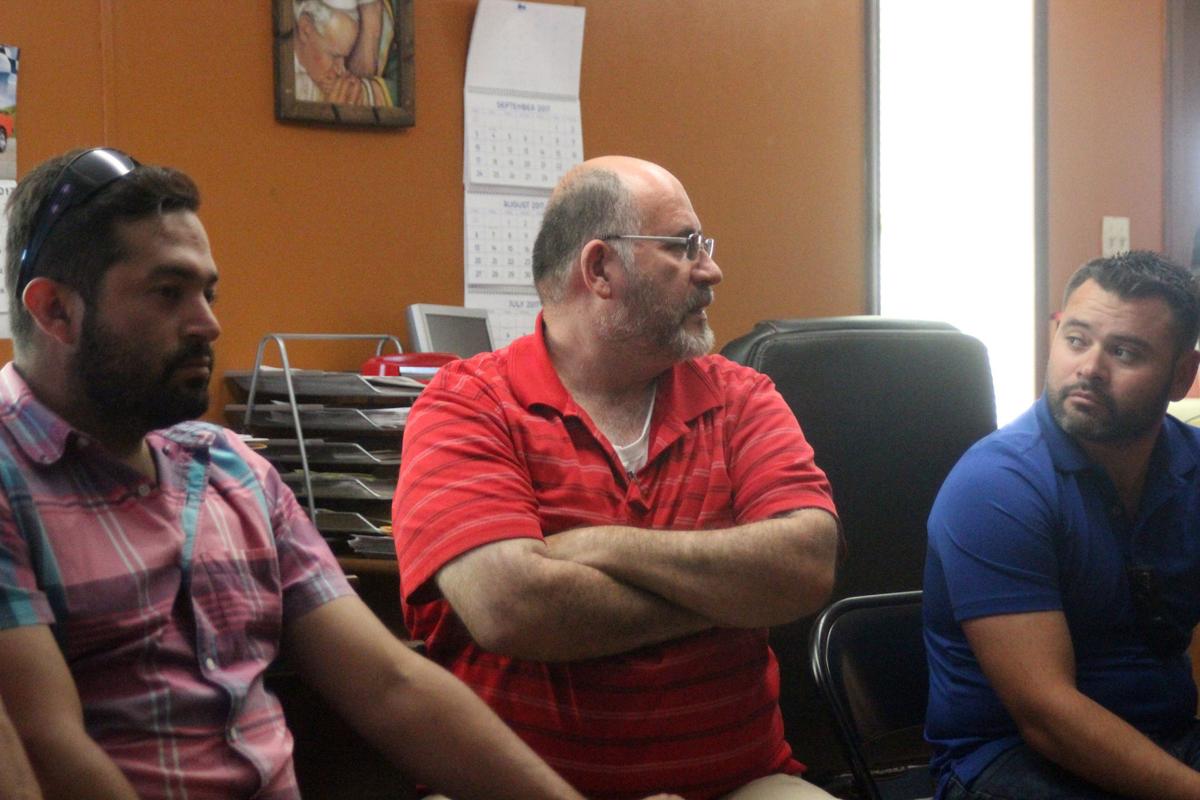 Luis Rivera (center) of L&R Trucking discusses obstacles he's faced while applying for visas for his drivers.
He added that many insurance companies also require that drivers have three years experience, which makes it difficult to attract younger drivers who have recently received their commercial driver's license. Still, Watson encouraged the group to reach out to the One Stop Center and also sign up to participate in the county job fair n
ext month. Another obstacle has been obtaining H-2B visas. Isaias Salas, owner of WS Trucklines, and Rivera said despite hiring a lawyer to help them with the application process, they've been denied multiple times.
Velasco of Athena Logistic Solutions, who said he applied on his own and received a response from the Department of Labor, encouraged the group to submit the applications themselves before hiring a lawyer. In addition to seeking American drivers more aggres
sively and applying for H-2B visas, the group also discussed creating a trucking association, helping to eliminate some of the competition among them, and also working with immigration lawyers and government officials who can help get their needs addressed. "We're not opposed to the regulations," Gonzalez said. "We want to do things
right, but we need help."
Coincidentally, the meeting Wednesday came a day after the Arizona Department of Transportation held a training with Mexican truck drivers in Nogales, Sonora as part of an effort aimed at helping them cross the border more efficiently.
The ADOT effort, which teaches commercial drivers what to expect during safety inspections when they cross through a
port of entry, seeks to reduce long lines at the port. It's part of on-going effort to build better relationships between truckers and federal and state transportation inspectors at the Mariposa Port of Entry, which local and state officials believe is crucial to cross-border trade.
Local trucking firms butting heads with Border Patrol By Paulina Pineda Nogales International Sep 22, 2
017 Updated 10 hrs ago (9) Trucking Issues A group of about 25 trucking and logistics company owners met Wednesday afternoon in Nogales to discuss regulations that are preventing them from using Mexican truck drivers to haul cargo loads within the United States. Photo by Paulina Pineda Trucking Issues
http://www.nogalesinternational.com/news/local-trucking-firms-butting-heads-with-border-patrol/article_25849d2e-9f2a-11e7-a055-33751a9a6c21.html