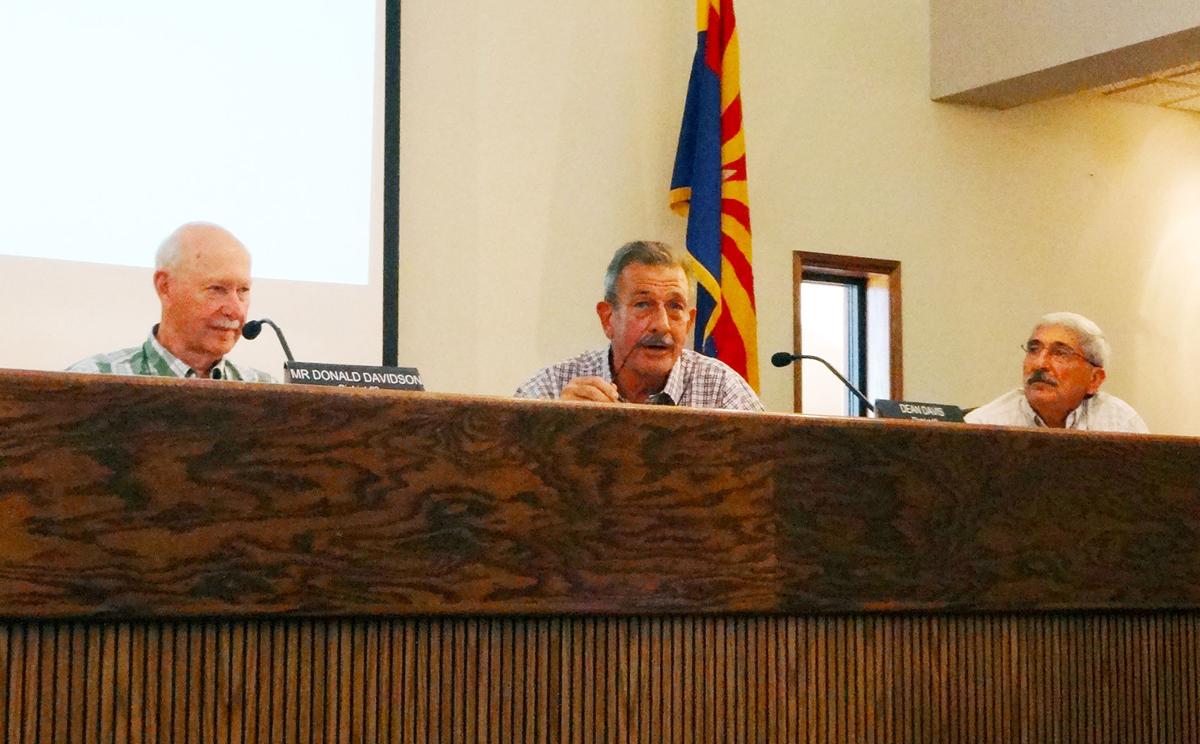 Nogales, AZ.- Despite fervent pushback from some neighbors, a Tubac man will be allowed to continue selling firearms from
his home after receiving approval from the District 3 Board of Adjustment on Th
ursday.
The decision came after a contentious meeting during which eight people stood up to express their opinions for and against Robert Gorman's request for the conditional use permit, some arguing that allowing the business could not only pose a security risk, but might disrupt the peaceful community and lower property values in the neighborhood.
Gorman, who transfers and sells a small number of specialty guns from his home in Tubac with a federal firearms license, said he has been operating legally under the supervision of the Bureau of Alcohol, Tobacco, Firearms and Explosives for the last 30 years and immediately applied for the conditional use permit when an inspector asked for one earlier this year.
"This is not an illegal operation," he said, explaining that though he has only made nine transfers during the last five years, he is asking for the permit in o
rder to comply with strict federal standards for anyone selling firearms. Gorman added that he rarely has customers pick up guns at his home, usually delivering them during special events in Tucson and that, until the "commotion" that ensued among neighbors after he applied for the permit, very few people were aware of the business. "I
n actuality, the whole thing getting going here has all been around only one transfer that was done at that place in five years.
And I don't see that changing at all," he said, adding that he only orders guns upon special request and does not keep any inventory on t
he property or post signage of any kind. "This is my neighborhood too. That's why I've been low key, that's why I want to stay low key. Unfortunately with all the activity this is getting, I'm not low key anymore."
During the Thursday afternoon meeting, Jesse Drake, county community development director, recommended that the board approve Gorman's request because he was in compliance with all necessary legal criteria for a home occu
pation permit, which she said is a legal requirement for anyone conducting business at a residential property in Santa Cruz County.
"Home occupations are allowed in the code, and there are other home businesses in the neighborhood," she said, noting that many people have guest house rentals or online businesses that also technically require a permit, though they may not realize it, as was the case for Gorman before his last firearms license inspection. She added, however, that though nei
ghbors "didn't even know the business was there until (the hearing) was posted," part of the approval process is based not only on the legality of the application but also the community's response.
The county received 14 letters in support and 13 in opposition to Gorman's request prior to the public hearing, and eight people approached the board on Thursday with questions, concerns and arguments for why they believed their neighbor should or should not be permitted to continue using his home as the location for business transactions.
Pros and cons
Among those who argued against Gorman's permit was neighbor Richard Roth, whose objections included potential traffic in the quiet neighborhood and the fact that guns "can harm and kill people and be used in cri
mes." Others complained that bringing a commercial business into the residential area could potentially reduce the value of the homes nearby, as potential buyers might be dissuaded from purchasing if they know someone was selling firearms in the neighborhood.
On the other hand, supporters like Tubac resident Earl Wilson, who formerly served on the board of adjustments, reeled at the idea that community members would interfere with someone's right to legally acquire a permit he qualifies for. "All the evidence that has been provided has been quite clear that he has violated absolutely nothing.
He is doing the thing that he likes to do, wants to do, he has not bothered a single neighbor and there should be no reason on earth that he should be denied that," he said. And a few people, such as Mindy Maddock, a Tubac-based R
ealtor who said she came to the meeting "fully prepared to argue against the conditional permit," changed their minds about the matter after hearing all the details of the case. "I do support Mr. Gorman, and I didn't plan to do it," she quipped.
As Gorman and Drake responded to questions from the board and attempted to address concerns expressed during the public hearing, a few members of the audience continued to call out questions and comments, causing bo
ard chair Dean Davis to tell them, "Folks, you're driving me crazy," though he added after the meeting that he appreciated everyone's participation. Davis joined the other two members of the five-person board in attendance – Donald Davidson and Ron Campana – in voting unanimously to approve Gorman's permit, citing his past responsibility and that they could find no reasonable objection.
http://www.nogalesinternational.com/news/home-gun-business-in-tubac-approved-despite-concerns/article_b2b5249e-86c9-11e7-841c-7fdbc60f5498.html