Nogales, AZ.- In an effort to revitalize Morley Avenue, a newly formed committee invited the public to discuss what it will take to bring the downtown area back to life. During the meeting Tuesday held at the Quality Hotel Americana, the approximately 25 attendees, including government officials, business owners, preservationists and people from the local artist community, discussed current
barriers to revitalization, spoke about the benefits of designating the area a historic district and about short-term projects that can help bring visitors to Morley Avenue.
However, despite a productive two-hour meeting in which participants heard presentations from Kirkman Lok, owner of the Americana, Nils Urman of Nogales Community Development and Connie Williams with the Anza Trail Coalition of Arizona, a list of goals and a timeline to accomplish them was not set and questio
ns still remained about what role the city and county would play, if any. Speaking by phone Wednesday, Linda Rushton, who is spearheading the effort, said while campaigning for Nogales City Council roughly a year ago, she held a meeting with Morley Avenue property owners to better assess their concerns.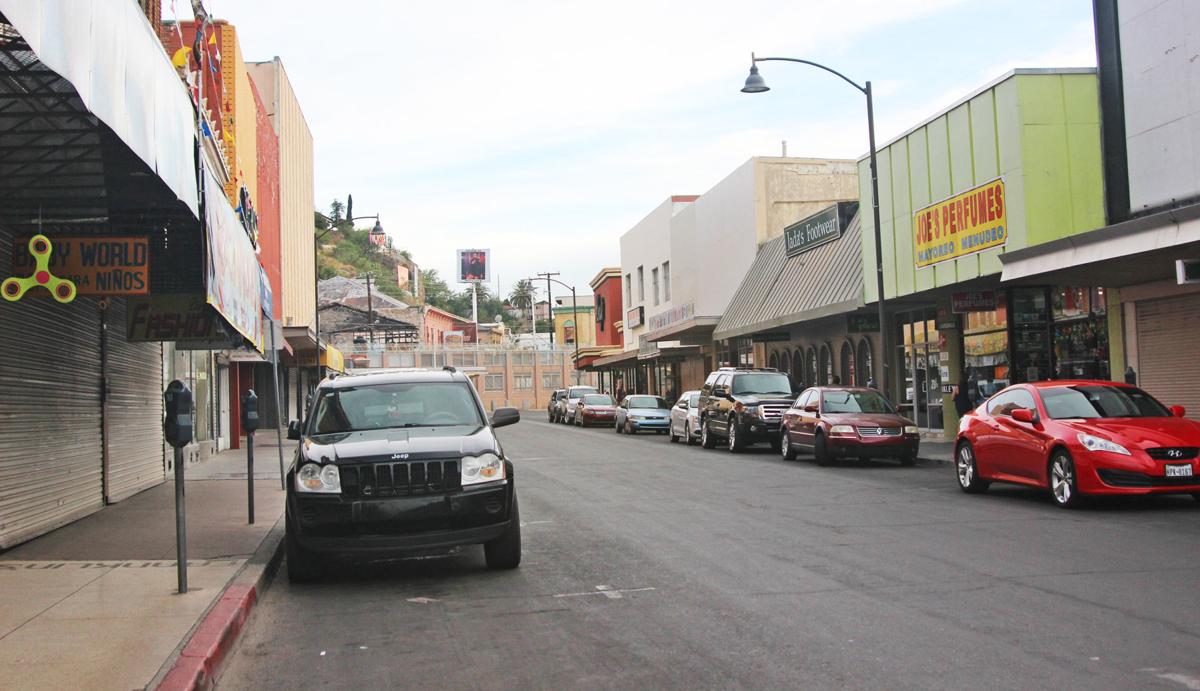 However, little has been done since then. "This last year-and-a-half, it just kept going around and around in my mind that we had to do something," she said. "If we just continue to wait, it'll never get
done. I appreciate that this has happened time and again, this cycle, but maybe it's time we did something about making sure that we have something to fall back on instead of waiting for the next economic boon."
Instead of sitting back,
Rushton helped create a citizen's group comprised of Sergio Villa, Kathleen Escalada, Raymond Kory, Alex Lim, Tom Bell, Stephanie Bermudez, Jeff Latham and herself. Rushton said each member was chosen "for their specif
ic talent," such as Lim and Bell's work with historic preservation and Latham's extensive research of historic buildings in Nogales, and each will have a "specific job to do." Attracting visitors During Tuesday's meeting, much of the discussion focused on designating Morley Avenue a historic district.
Rushton said this would make it easier to develop the area because it would provide financial incentives to clean up and restore buildings, while also allowing owners to forego paying flood insurance, which is a hefty ex
pense since Morley is in the floodplain. Lim, architectural conservator at Tumacácori National Historical Park, said preserving historic buildings could provide economic opportunities, and he urged people "to seize that opportunity." "Nogales has shown enough resilience over the years to overcome that," he said of the current economic dow
nturn the city is facing, adding that with "political will," Morley Avenue could be restored to its former glory. The group also discussed getting people north of Tubac to visit downtown Nogales by bringing Mexico to them.
During Williams' presentation, she mentioned opening galleries, curio shops and restaurants downtown to attract more visitors. Crawford Street resident Mary Darling, Jr. also suggested steam cleaning the sidewalks and exteriors of the building to make the area look more attractive, while also working with local artists to create small galleries in the stores' windows. However, business and property owne
rs in attendance noted many of the buildings on Morley need extensive work and must be brought up to code. Sandra Kory, owner of the La Cinderella dress shop on the first block of Morley, said there's also a need for free parking for customers and employees in addition to the meters, a sentiment echoed by many downtown shopkeepers.
She also added that the city should plant more trees to provide shade along the street, especially during the hot summer months. Kory also noted that th
e border fence and new additions to the Morley Pedestrian Crossing make it appear as if it's a prison, to which some in attendance responded that the city should take advantage of the fence and promote it as a tourist attraction. "Take a negative and turn it around," Escalada quipped. Escalada also suggested using empty spaces for pop-up festivals and other short-ter
m projects that can be held in conjunction with the Friday farmer's market or other events. Next steps Going forward, Rushton said, members of the committee will be tasked with looking into forming a historic district, taking an inventory of empty buildings, and reaching out to local, state and federal officials as well as investors.
Urman said NCD will also reach out to the National Main Street Center, a nonprofit which specializes in historic preservation and commercial revitalization, to bring a facilitator to assess Nogales. However, Urman said in order for the e
ffort to be successful, the committee will need to partner with the city, county and people willing to invest in the downtown area. And that could be tricky, especially with rising tensions between elected officials. Speaking Wednesday about the city and county's relationship, Rushton said she hopes they'll be able to form a working relationship, adding: "And if we have to act as a mediator between the two, we'll do that, too."
http://www.nogalesinternational.com/news/group-hopes-to-bring-morley-avenue-back-to-life/article_